Among the amalgam of modern and innovative technological solutions for intelligent buildings, one of the most prominent is the BMS system.
This solution for energy saving and efficient control of safety and comfort in hospitals is one of the best tools available to health centres to avoid energy waste, problems in the electrical installation and serious situations such as those that can occur in critical hospital areas. 
What are BMS systems?
Building Management Systems (BMS) are increasingly used in all types of public and private buildings. In our case, especially in hospitals.
BMS is a system based on software, monitoring and control hardware that is installed in buildings, which achieves comprehensive building automation using high technology.
In addition, there are specific BMSs, such as air conditioning BMSs or Guest Room Management Systems (GRMS), specialised in room control and monitoring, which are widely used in healthcare centres.
"A BMS or building management system allows for automation and centralised control in order to have a truly intelligent building."
It is an essential tool to cope with the forced evolution in which the healthcare system is immersed towards an environment surrounded by technology, with a constant and changing demand for systems that improve hospital services at all levels. 
In this way, building management systems are capable of supervising and controlling all hospital parameters such as HVAC air systems, hydro-sanitary systems, air conditioning, lighting, control, energy generation, security, fire, access, blinds, awnings, communications, lifts, lifts, escalators, etc.
Operation, configuration and efficiency of the BMS
Now that you know that its function is to improve management and control within the "intelligent building" concept, it is time to learn how a BMS system works.
These computer systems are made up of hardware (sensors, management centres, control consoles…) and software (programmes with access from the cloud that use protocols), which enable total supervision and control of the installations, ensuring their correct operation in the building. At the same time, and thanks to artificial intelligence and Big Data, the aim is not only to make the building easier to maintain, but also to enable it to manage itself. 
This combination of BMS solutions with Big Data, the Internet of Things, machine learning and AI means that a building can only be alerted when there is an incident or an important decision needs to be made regarding its management.
BMS systems in hospitals
Whether building new hospitals or refurbishing existing facilities, hospital BMS systems are an important means of optimising resources.
Doing more with less, complying with strict regulations, adapting to constantly evolving technologies, health and safety measures? A hospital is a complex facility in every sense of the word. That is why it is so important to invest, as hospital engineers in particular have been doing, in the remodelling of healthcare centres.
Characteristics of energy demand in hospitals
As we said, if we look at health centres and hospitals from the energy point of view, they are undoubtedly critical places, as they are spaces with a high annual and one-off demand, high installed power, they need stable supplies, it is essential to guarantee uninterrupted supply 24/7/365, and medical equipment is very sensitive to disturbances from unstable networks. 
How does this translate? Serious problems and situations can arise in the event of disruption or mismanagement of services, such as: 
Breakdowns in hospital equipment and services.
Malfunctions and interruptions of medical treatments.
Spread of infections.
Interruptions in non-medical services (food services, laundry, etc.).
Loss of information from computer systems.
Closure of services or areas.
Very high operational costs.
Deterioration of the centre's image and user discomfort/complaints.
Electrical safety as a pillar
One of the most important considerations in this technology is the situation of electrical installations in hospitals and the energy costs involved. 
It is clear that electrical installations have to meet very special requirements, including intensive energy use, as they operate 24 hours a day. For this reason, proper operation and maintenance are essential, as is compliance with regulations. 
One of the key elements of electrical safety in hospitals are the IT systems. These are characterised by the fact that all active components are earthed via a high impedance. 
The reason why a high impedance is implemented is due to metrological aspects, and so that it does not jeopardise electrical safety, in this case in hospitals. This is why it is so necessary to have professional electrical installation for IT systems in critical hospital areas as the basis of the BMS. 
Thus, what the BMS allows us to do is to be able to have real-time reports of electrical faults, monitoring the environment and recording electrical data and incidents. This is also essential for safety in hospitals. For this, CCTV systems, access control, intelligent management of ventilation and filters, as well as real-time location solutions for people and equipment can be integrated.
On top of this, through the technological integration of BMS, patients are able to control room temperature and lighting, call the nursing staff…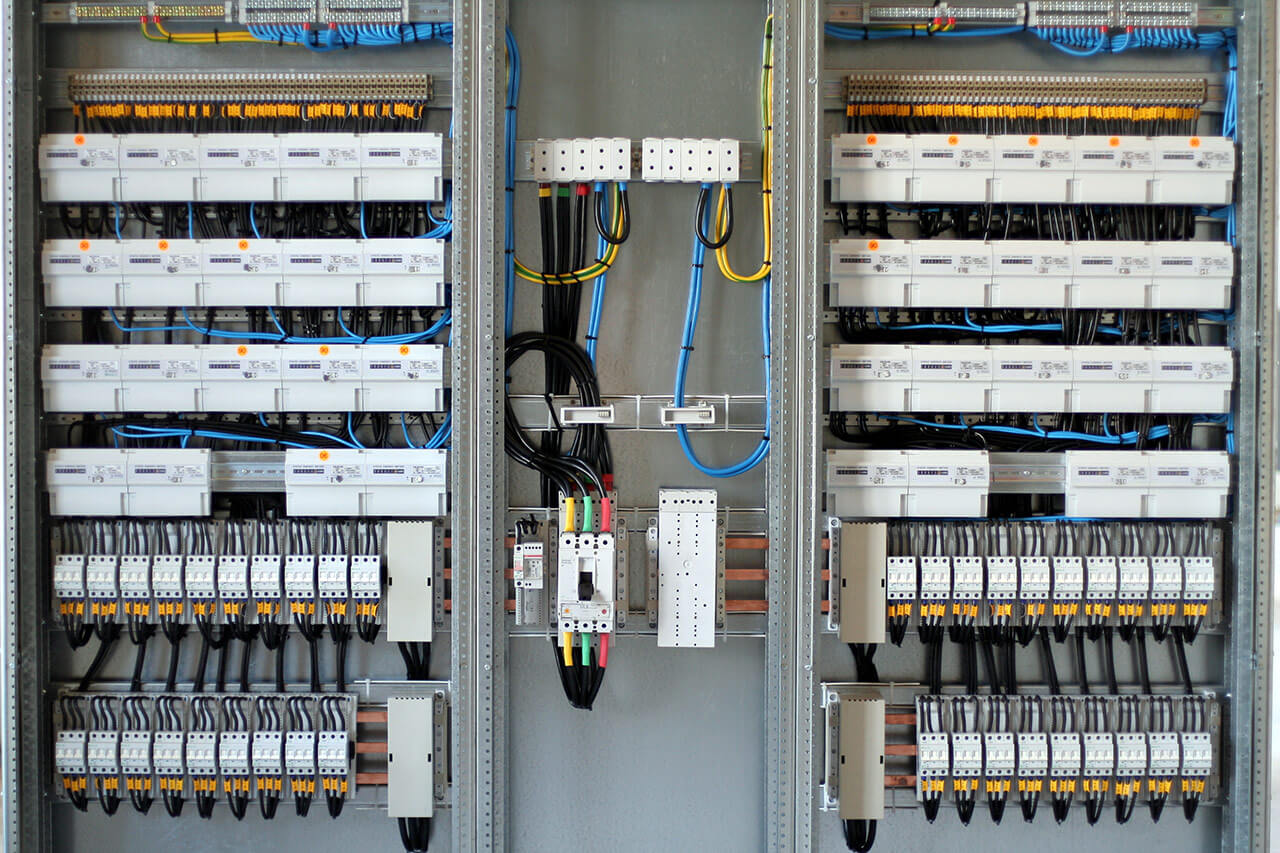 Benefits of using BMS in hospitals
Enables centralised control and monitoring of all elements of the building. By reporting incidents, operators know where the problem is and can intervene in the most efficient way possible.
Savings in maintenance and personnel costs. Thanks to the automation of monitoring tasks, staff productivity is increased and incidents are quickly detected.
Energy efficiency is promoted thanks to detailed consumption information.
Increased comfort and safety of building users through better management.
Savings due to economies of scale as only one single installation and control provider is required.
High Return on Investment (ROI) through energy and billing savings.

 

Savings in administrative and management costs, optimising human resources and detecting faults earlier.
Revalued infrastructure.
Remote monitoring.
Individual room control.
Implementation of new strategies, programmed savings goals and historical consumption management.
Protects patients' lives and evaluates and improves patient satisfaction levels with safe and efficient care environments.
They are also open, integrable and adaptable systems that are tailored to the particular needs of each hospital facility.
The real impact of building management systems
By implementing measures, through a BMS, to optimise the energy efficiency of a hospital, while maintaining the comfort of users and the proper functioning of the facilities, we achieve a very significant impact on the usual operating costs.  
"For a 250-bed hospital, reducing energy by just 20% can save more than €2 million per year."
So how does the BMS help achieve this goal? 
By indicating when energy use can be reduced in long-term empty rooms, and making more informed decisions about how to manage room conditions.

 

Increasing the productivity of housekeeping and cleaning staff by being able to better schedule their work in each room.
Making it easier for patients to specify and change their preferred room temperature during admission or even control it via an app.
¿Would you like to learn more about BMS? ¿And make your building / hospital smarter with a BMS system? Contact us!