Over the last two decades, the development of cath-lab rooms in hospitals has gone hand in hand with the profound transformation and innovation in hospital equipment, safety conditions and process improvement.
A profound transformation in which interventional procedures have become major players. 
As new diagnostic and therapeutic modalities have appeared in this type of hospital, the level of training of medical staff, as well as the human, technical and equipment requirements, have been modified. 
Find out from ETKHO what haemodynamics operating theatres consist of and what systems and elements they should contain as a basic foundation for their optimal functioning.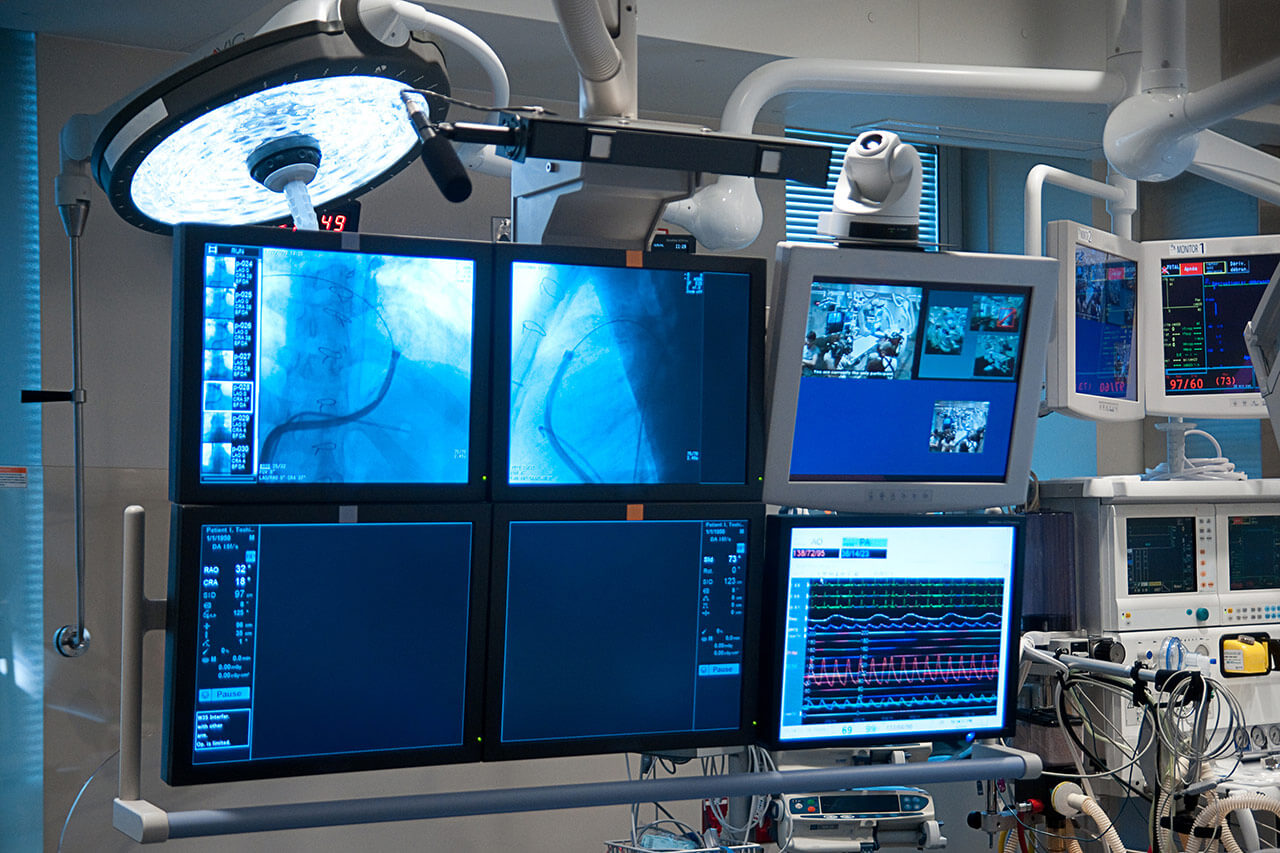 What is haemodynamics?
Haemodynamics is the part of cardiology that studies the functioning of the cardiovascular system by introducing catheters through the arteries and veins. 
This minimally invasive procedural technique, known as catheterisation, is based on the introduction of these devices, which are taken to the heart, to assess the anatomy and coronary arteries, as well as to observe their function, measure cardiac cavity pressures and even find out if there are any altered valves.
Therefore, this subspecialty of cardiology is based on the diagnosis and treatment of different cardiovascular conditions, using X-ray-guided techniques. For this reason, they are usually performed in vascular radiology or haemodynamics wards.
The haemodynamics unit in hospitals
The haemodynamics room is a space equipped with high-tech equipment, fluoroscopy or X-ray equipment, to obtain the dynamic images obtained, process them and digitalise them, thus providing clear and sharp images for the diagnosis and treatment of cardiovascular diseases.
The study carried out by haemodynamics allows the interior of blood structures, whether arteries, veins, venules, arterioles and capillaries, to be studied.
Thus, the Haemodynamics Unit must have the most advanced technology for the diagnosis and treatment of coronary diseases, capable of performing haemodynamic studies and catheterisation for early diagnosis. 
In a haemodynamics room, the patient is treated in a minimally invasive manner, as opposed to surgical intervention in operating theatres.
Location, dimensions and structure of cath-lab rooms
The desirable location for a haemodynamics room is the closest to the conventional hospitalisation areas, the coronary unit and the cardiac surgery operating theatre. This facilitates the transfer of patients, increasing the number of cases that can be performed each day, and does not expose critical patients requiring urgent diagnostic and therapeutic procedures whose needs may require intensive monitoring and/or urgent surgery to unnecessary risks.
In terms of dimensions and structure, everything will depend on the space available and available in the hospital, although the minimum should be 200 m2 of rectangular design, and a height of no less than 3 metres. This should include the necessary shielding for walls, ceiling, floors, doors and windows, in order to reduce radiation to the public outside the laboratory. 
The room should be connected to the examination room by a leaded glass window, arranged caudally to the radiological table.
The post-processing image viewing area and the recovery and monitoring area should also be included, adjacent to the operating room, with capacity for one or more beds, and allowing circulation around them in the event of a medical emergency.
The control room will house the patient monitoring instruments and support staff.
It is also necessary to consider the room's own equipment, which consists of cupboards and drawers to keep all the elements necessary for the different procedures in place and stored.
Procedures and effectiveness of catheterisation
Diagnostic procedures allow us to identify any health and/or disease situation. 
In the case of interventional cardiology, they are increasingly oriented towards specifying anatomical and functional details, and after diagnosis, treatment is carried out in the same medical act.
Among the main diseases and/or conditions for catheterisation are:
Arteriosclerosis
Coronary heart disease.
Heart valve disease
Disease in other structures of the heart
hypertrophic cardiomyopathy
Hypertension
Birth or congenital heart defects
Procedures in haemodynamics and interventional cardiology
Cardiac catheterisation
Coronary angioplasty and/or atherectomy.
Coronary arteriography
Coronary artery bypass angiography
Transient pacemaker implantation.
Pharmacological tests
Intra-aortic counterpulsation balloon pump
Balloon mitral valvuloplasty
Balloon pulmonary valvuloplasty
Ventriculography
Aortogram
Intracoronary stent implantation
Endomyocardial biopsy
Treatment of thoracoabdominal aneurysms
Vascular and angiological surgery
Facilities and equipment for haemodynamic operating theatres
Transportable devices, such as a defibrillator-monitor or a special intra-aortic balloon stretcher, should be available to provide safe transfers. It is highly recommended that, in these cases, the interventional room be designed for immediate adaptation as an operating theatre.
Central supply of oxygen, vacuum and compressed air.
Availability of sufficient electrical outlets to ensure simultaneous operation of all necessary peripheral elements. All power outlets for the X-ray system and the polygraph system must be independent of each other and of any other hospital device.

 

Refrigerated annex for transformers, generators and central unit of the digitisation system.

 

10-15 m2 room to house the controls for the conventional and digital radiology system, the video recorders and the polygraph.

 

Reception and surveillance area adjacent to the interventional unit, with sufficient space for the monitored stay of at least one patient and the possibility of circulation in the surrounding area in the event of an emergency. It should be equipped with sufficient electrical outlets and oxygen, vacuum and compressed air outlets.

 

Rest area with adjacent area for changing and toilet facilities.
Interpretation area that includes, as a minimum, an individual office for the head of the interventional unit, and an open-plan space where a meeting table and independent work modules and medical staff assigned to the unit can be located.
Image post-processing viewing area
In terms of radiological equipment, the following elements stand out:
Generator.
X-ray tube and radiation emitter.
Image intensifier.
Television monitors.
Digital image recording systems.
Arc device.
Scanning table.
Automatic injector.
Ionising radiation protection system.
Visualisation system.
Printer.
Constant or multi-pulse voltage generator.
Human resources in cardiac catheterisation operating theatres
A diagnostic and interventional cardiac catheterisation laboratory should include the following personnel:
Laboratory manager or director
Medical staff
Nursing staff
Radiology technicians
With a presence in more than 20 countries, at ETKHO we offer our services and products for IT systems in surgical environments, with a clear focus on advising on the design and choice of the most appropriate equipment for each type of hospital unit.