The revolution in hospital design is called biophilic design. Within everything that encompasses and affects precisely the configuration of hospitals, the present and the future go through this trend that humanizes and naturalizes health areas.
Biophilic design in hospitals
The application of biophilic design in hospitals is one of the cornerstones of the humanization of health centers.
Everyone, more or less, understands healthcare facilities as unpleasant spaces. Whether we are patients, family members or healthcare personnel, healthcare environments can cause significant stress, fatigue, discouragement and even fear depending on how they are designed.
"The trend in hospital design, therefore, is to make the experience as pleasant as possible. One of the techniques to achieve this is biophilic design."
By committing to this concept, elements of nature are incorporated into health centers, evoking mother earth. Whether on a small or large scale, using materials such as wood, stone or adding plants and green spaces, with rooms in which the views are very pleasant and open, or designing facades where natural light falls optimally. A job that results in greater feelings of well-being, peace and tranquility.
It should be noted that increased access to natural light helps regulate the body's circadian rhythms, those that govern our mood and physiological changes throughout the day. Which affects the release of hormones for sleep and happiness.

© Copyright. Khoo Teck Puat Hospital
What does biophilic design mean in health centers?
Various reports have echoed that the biophilic design lowers anxiety levels and therefore promotes sleep. But where does that conclusion come from? To get there, you have to understand the advantages and benefits of having hospitals and health areas supported by biophilic design:
Good ventilation means less spread of infectious diseases, and fresh air creates less stress.
Sound absorbing materials reduce noise levels, minimizing distractions and errors, and reducing fatigue for staff and patients.
Optimizing natural light reduces, as we said, patient stays in hospitals, as well as pain, depression, fatigue or the need for medication.
Emotional well-being increases exponentially when you have points of view to nature or natural elements.
Indoor gardens generate greater social interaction.
Using natural materials makes the sanitary environment a more comfortable and pleasant place.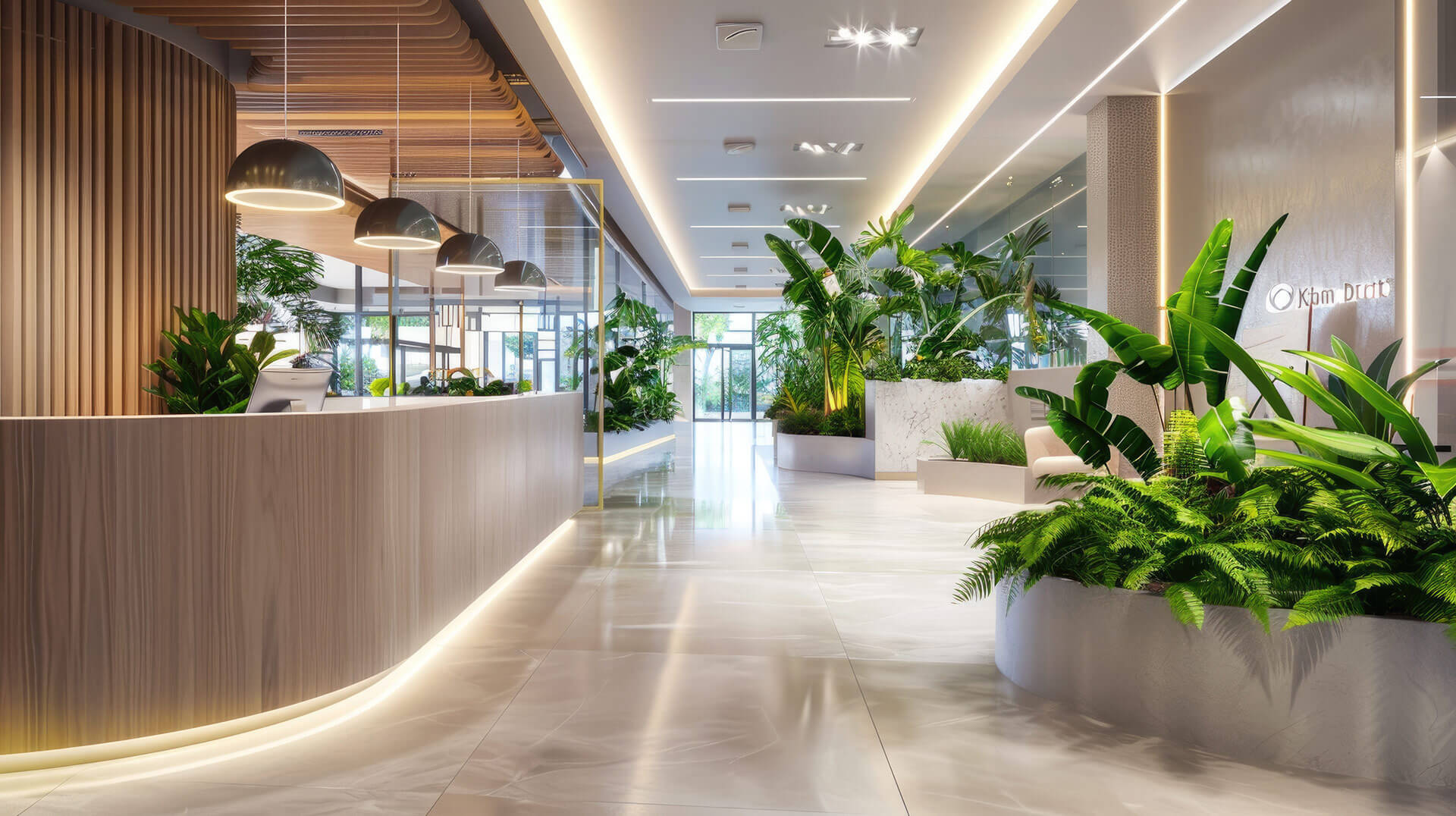 What does biophilic design consist of?
Biophilic design tries to emulate nature in buildings. So, it is the design that incorporates elements of nature both in the interiors and exteriors of the spaces. The goal? Improve people's health and well-being.

"The principles of biophilic design are the introduction of nature into space, using elements equivalent to those of nature and creating natural spaces. That is to say: integrate analogous forms in a way that looks as logical and enjoyable as possible." 
Main elements of biophilic design
Visual and non-visual connection with nature
Indoor / outdoor plants
Non-rhythmic sensory stimuli
Optimal view of green spaces through windows / walls / glass
Total commitment to natural light
Presence of textures, materials, aromas and shapes that allude to nature
Thermal variations and air currents
Presence of guide
In short, design to obtain images outside of nature that in turn remind nature

The importance of natural light in the health of patients
When we enter a hospital, perhaps the last thing we think is that one of the main factors that help improve cleaning, hygiene and sterilization, and especially increase the good spirits of professionals and patients, is lighting.
Specifically, in the medical sector, natural lighting is decisive for the efficiency of staff, cleaning and the well-being of patients. Therefore, having good lighting in health centers is equivalent to:
Improvements in staff performance
Uniformity and visual comfort are crucial for the good work of the staff, be it a surgeon or a caretaker. It is not only the artificial light part that matters, such as LED tubes, etc. Instead, betting on natural and clear light has a positive impact on the effectiveness of health workers.
Improvements in the well-being of patients

Natural light has a decisive psychological and emotional effect on patients, which is often underestimated. Various studies, over the last decades, have identified that natural light guarantees better results for patients, helping them in their recovery and reducing fatigue.
And if we talk in general about the benefits of biophilic design in our health and well-being through health centers, we find from a reduction of stress, greater creativity, acceleration of healing before surgical interventions and hospital stays, improvement of air quality and productivity… In short, a simple way to make life easier in hospitals and to ensure that healthcare environments are healthier, places where global health and well-being are encouraged.

© Copyright. Sky Factory
Practical cases
Glazed solutions, visual connections with the outside, plants, efficient and sustainable architectural designs, better use of resources … There are many options that have been chosen to apply biophilic design in hospitals.
Kaari Hospital
On a practical level, we find cases such as the Kaari Hospital in Finland, where the special Evolution façade itself is a reference work of art, and where progressive natural light strategies have been adopted.

© Copyright. Partanen & Lamusuo Ltd./GlastonCorp.
Maggie Centers
There are models where green roofs predominate, which help to purify the air and have thermal properties. This is the case of the famous Maggie centers, some "sanctuaries of well-being" intermediate between sanitary facilities and their exteriors. Refuge for both patients and their families, where they coincide on a point that acts as a forum interconnected with nature.
Östra Hospital
In the Östra center in Gothenburg, Sweden, the building stands out for its interior gardens that serve as a controlled interior therapeutic space, and where the visual connection with the rooms is the general trend. In addition, both the care and service rooms as well as the dining rooms and consultations are concentrated around an interior landscaped patio that bathes the interior of the block with light.
Royal Children's Hospital (RCH)
A hospital that stands out for its covered galleries and a large climate-controlled central space, the nucleus of many other connections and reference of corridors and areas, is the Royal Children's Hospital (RCH) in Melbourne.

© Copyright. Fraser Marsden
Conclusions on hospital biophilic design
The truth is that a change is taking place in the design of sanitary facilities. Functionality, without taking a back seat, has given way to the patient and their well-being. To achieve this, one of the most useful and simple measures with a better cost-benefit ratio is the biophilic design.
A well-distributed environment with fresh air, with a good proportion of openings to the outside and good natural lighting, provides improvements in the health of patients and healthcare personnel. From reducing hospitalization time to reducing patient mortality, reducing pain, reducing stress …
It is proven that the connection with nature alleviates anxiety and optimizes the experiences of users, family members and health workers in health environments. It is betting on the motto "home away from home".