Hospitals that do not look like refrigerators or cold and grey mega-constructions, warm, spacious, well-lit healthcare centres with large windows and a welcoming décor, comfortable rooms for both staff and patients and their families, and adequate and renovated hospital equipment.

This is what the public, patients, healthcare professionals and the sector in general have been looking for in recent years. It is the most common request in search of the perfect hospital. That ideal place for which there is still a long way to go….
So how can we achieve the perfect hospital? Or at least, health centres that respond to the requests and needs not only of today, but of the future. These are some of the keys, methods and trends that can be followed, both for hospital equipment and for improving rooms, wards, areas, floors, environments, etc.
Having a good hospital room
There are different types of hospital rooms, always depending on different factors such as the age of the patient, whether it is an ICU or ICU, what the patient suffers from, etc. But they should all have some characteristics in common to become the 'universal room':
Optimal hygiene, quietness and tranquillity for the early recovery of patients and optimal performance of staff.
The room is ventilated and at the right temperature.
Lighting as an essential factor, with a focus on natural light, biophilic and/or holistic design.

 

Adequate, functional and adaptable hospital beds.
Everything should be arranged and distributed in such a way that doctors, nurses, patients and accompanying persons can move around easily.
The electrical installation, devices, monitors, etc. are adequate, do not disturb with unnecessary noise, are optimised, etc.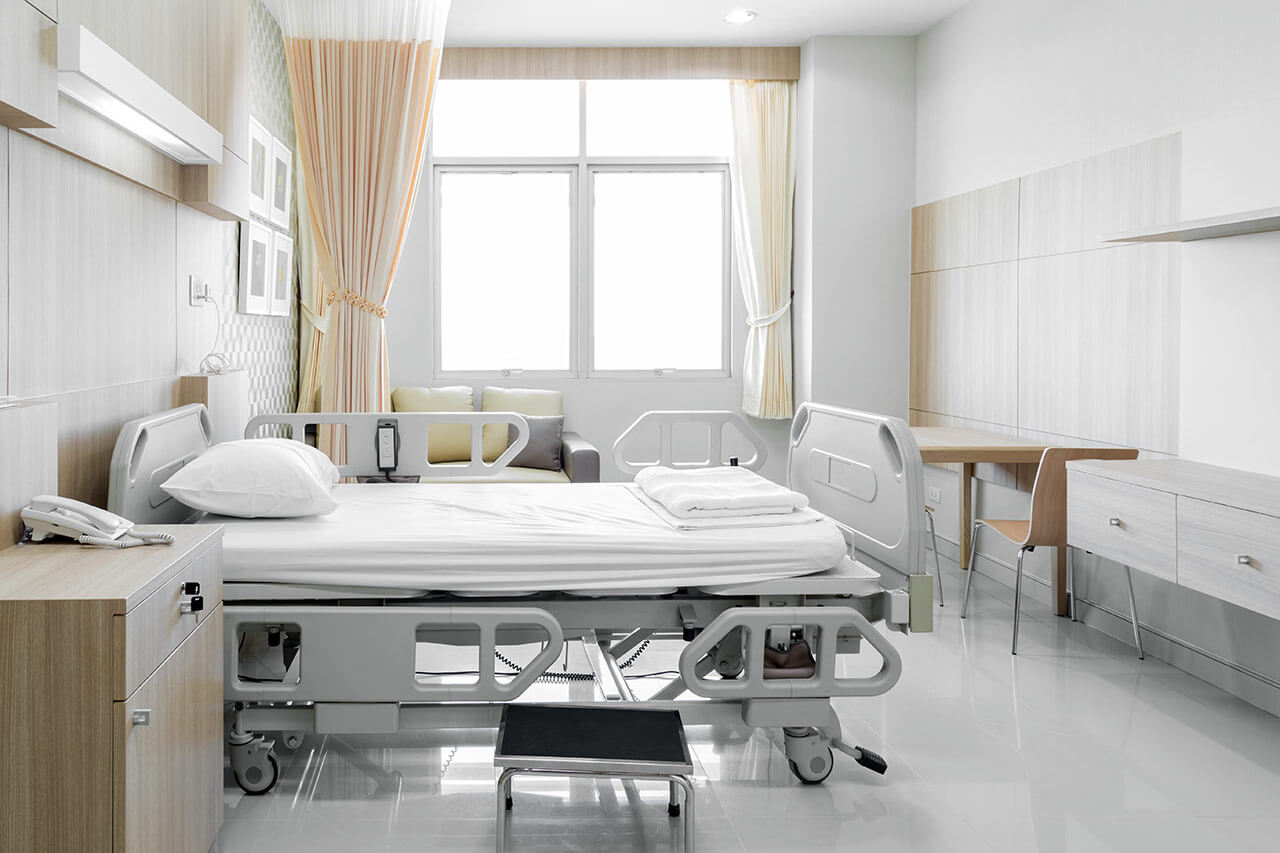 State-of-the-art technology
In order to have a 'perfect hospital', state-of-the-art hospital equipment makes the difference. For this reason, it is essential to have equipment with the most modern applications and software on the market and worldwide trends for the different specialties, whether radiology, cardiology, operating rooms, gynaecology or obstetrics, among others.
We are talking about innovative solutions that can capture 3D images, X-ray systems, anatomical realism, digitisation systems, ultrasound, electrosurgery, wearables for telemedicine, devices supported by the Internet of Medical Things, quantum health…
Also, digitisation on the ward, systems that monitor patients with wearables that allow healthcare staff to prioritise the severity of each patient and therefore the order of intervention, image departments with greater prominence, hybrid visualisation technologies, wireless systems for remote monitoring of vital signs, combining the benefits of X-rays and echocardiography in real time during an intervention, supporting the "hospital at home" for patients, promoting machine learning technology…
Trends in hospital infrastructure
At Etkho, we have spoken at length about the role of hospital engineers in modifying, underpinning or creating new hospital infrastructures.
Not surprisingly, healthcare infrastructure in hospitals today is one of the most complex challenges for a project structuring and design team. The hospital building itself is very complicated to design because of the complexity of the technologies that are integrated, and the expectations of patients and families. 
"It has been proven that the efficiency and economic management of a 250-bed hospital is much better. In Spain, there are no 1,000-bed hospitals under construction and those that still exist are having problems."

Thus, in order to design a safe care environment that promotes the overall wellbeing of all actors involved, we are currently looking for:
Evidence as the basis for hospital architectural design.
The environment to act as a healing element, with a balance between structure and nature.
Focus on efficiency, efficacy, safety and patient comfort.
Humanised, sustainable and efficient design.

 

Comply with quality standards and certifications.
Sustainability, holistic & biophilic vision, lighting and orientation
Green hospitals for a better world. This is what all hospitals that want to make progress are working on. Firstly, for ethical reasons and for the present and future. And secondly, and not least, to save costs and expenses. Thus, the environmental impact of hospital facilities is more in vogue than ever. This is also influenced by the location of the hospital, whether it is urban or suburban. 
It should be borne in mind that a reference university hospital, a 'big' hospital, can occupy between 45,000 and 80,000 m2, so finding a place for it in the centre of a city is mission impossible. And the trend of building tall hospitals was abandoned years ago. 
It is also essential to promote lighting that takes into account a holistic vision of the hospital, i.e. a whole in which every player in the place, whether patient, family member, doctor, nurse, etc. is part of that whole. 
And together with the lighting, the orientation must generate 'visual landmarks' that allow us to locate ourselves within the hospital, and avoid labyrinthine spaces without references. Natural light is well-being, order, location and health. Thus, whenever possible, rooms should be oriented to the east, so that they receive the morning light. On the other hand, south-facing patios will always receive light and will be more welcoming. North facing patios, which are cooler and have less light, are ideal for the location of support and supply services. In addition, this generates energy savings.
The 9 key elements that every hospital needs to be ideal
Months ago, the Community of Madrid launched an ambitious project to refurbish the 10 main hospitals in the region. However, many autonomous communities are also planning to adapt their hospitals to the new needs of patients.
In this regard, it is important to know which 9 elements make a hospital an almost perfect construction:
Intuitive and clear access to the premises, whether on foot or by car.
A welcoming aesthetic design that reflects the visual and cultural spirit of the institution.
A car park that makes us feel cared for and makes everything more comfortable
Good internal orientation, harmoniously combining architecture, medical planning, interior design and environmental graphics
A better waiting area, with natural light, views…
Pleasant clinical environment and external environments designed for circulation and planning that allows separation of patients and families.
The building itself to participate in the healing process
Personalisation and choice
Dignified exit for patients leaving the hospital, whether or not they require care
Aiming for the best electrical safety
In pursuit of the best possible health provision for both patient and healthcare staff, there are a number of basic elements of electrical safety in ICU, operating theatres, rooms and other areas of the hospital. They are one of the first improvements that must be made at the level of hospital equipment to perfect a hospital.
We are talking about:
Earthing connections, hospital earthing panels and electrical sockets.
IT power supply systems, to detect electrical faults to earth and locate them easily and quickly.
Isolation monitor and its multi-repeater, to continuously monitor the insulation resistance of medical IT systems.
Uninterruptible power supply systems, enabling emergency power supply of specific loads.