This new methodology has meant a great advance for hospitals thanks to its combination of the latest in surgery with the most innovative technology in diagnostic imaging.

What is a hybrid OR?
The hybrid operating room is a great advance in the field of surgery, since, in general terms, it allows multidisciplinary work by specialists from different areas and helps to perform complex surgeries faster, easier, safer and less invasively. But what exactly is a hybrid operating room?
It is a surgical room that is equipped with advanced medical imaging/radiodiagnosis devices, allowing different diagnostic and therapeutic procedures to be carried out simultaneously.
A hybrid operating room allows the insertion of catheters or endoscopes through small holes with which to view smaller anatomical regions, greatly facilitating the surgery process.
Most common specialties
These types of operating theaters are mainly used in cardiac, vascular and neurosurgical applications, although they can be suitable for any surgical discipline, such as traumatology, hemodynamics, urology or craniofacial surgery. These services generally include minimally invasive technologies, medical images (such as MRI and CT) and tools for constant communication with the outside world.
The fact that they combine a range of interventional (medical imaging, such as intraoperative MRI and CT) and surgical services in one place, without the need for patient transfers, is one of their greatest strengths.
For example, in Neurosurgery, advances in the treatment of intracranial aneurysms, spinal arthrodesis and embolization stand out. And they also facilitate reconstructions in complex fractures such as the case of the calcaneus, the pelvis, traumatic spine fractures, scoliosis treatment, etc.
Advantages of the hybrid operating theatre vs. the traditional operating theatre
It is in the intrinsic characteristics of the hybrid operating theatre that we will find the differences and at the same time the advantages over conventional surgery. What are the benefits for patients, doctors and hospitals?
Interventions are performed in less time and safety is more guaranteed, with a lower risk of infections.

 

Fewer post-operative sequelae and complications, resulting in faster recovery after surgery and less time spent in hospital.

 

More information in real time during the operation.
Less physical trauma for the patient.
It facilitates the multidisciplinary work of specialists specialised in different medical areas.
Diagnosis and intervention can be performed at the same time.
Fewer incisions, as it is a less invasive procedure.

 

It makes it possible to operate without making large openings in the patient due to the use of the fine catheters necessary to repair the affected area.
It emits less radiation than traditional surgery and the image quality is better.
It helps to minimise safety when transferring the patient between the operating theatre, radiology or ICU.
Its imaging system makes it possible to work with small incisions, without having to open up the patient and even in the most complicated operations. These operations are performed via catheters, making the operation less cumbersome than usual.
The essentials in a hybrid operating room
The hybrid operating room is one that has advanced and sophisticated imaging systems such as MRI (Magnetic Resonance Imaging) scanners, CT or CAT (Computed Tomography or Computerised Axial Tomography) scanners, fixed C-arms and other imaging devices. The aim, as we said, is to be able to intervene surgically on the patient's body but in a minimally invasive way. However, before performing surgery, a hybrid operating room must be designed and prepared properly in the hospital facilities, and this must always be taken into account: 
Size: Hybrid operating theatres must meet state-of-the-art standards as well as the requirements of fixed medical imaging systems. It is therefore a challenge to standard hospital room sizes. In addition, a team of 8 to 20 people can work in a QF of this type. In this respect, a room of 70m2 is recommended, including the control room, but not including a technical room and preparation areas.
Height: The recommended floor to ceiling height is between 2.97 and 3.63 m, depending on the equipment selected, and for new buildings between 5.28 and 5.94 m. mezzanine.
Location: The hybrid QF should be located within the surgical service in order to be able to share all the support environments of the surgical service. A good location means a better use of space, so its efficiency depends on its strategic location.
Shielding, weight and insulation: In addition to increased lead shielding, this means that the construction must have special features to support a greater amount of weight.

 

Workflow and operability: A smooth workflow in the room must be ensured, as all parties involved, the multidisciplinary team, must indicate their requirements. In addition, elements such as lights, surgical arms, integration systems, ventilation, monitoring and alarms must be checked and fully functional.

 

Lights: In addition to auxiliary lighting heads, two distinct light sources are usually required: surgical lights, used for open procedures, and ambient lighting for interventional procedures.

 

Imaging equipment and monitors: medical equipment should be strategically positioned so as to be freely accessible and not interfere with the movement of medical staff. The most common imaging modality in hybrid QFs is a C-arm, which is an important consideration for the design of the hybrid OR.
Tables: This will depend on the primary use of the system, and the choice of table will depend on the surgical and interventional requirements.
Differentiation of areas: Circulation, anaesthesia and sterilisation areas must be defined and function in a common way.

 

Connections: Another fundamental element is the installation of an optimal electrical system, which takes into account safety in a humid environment such as the operating theatre.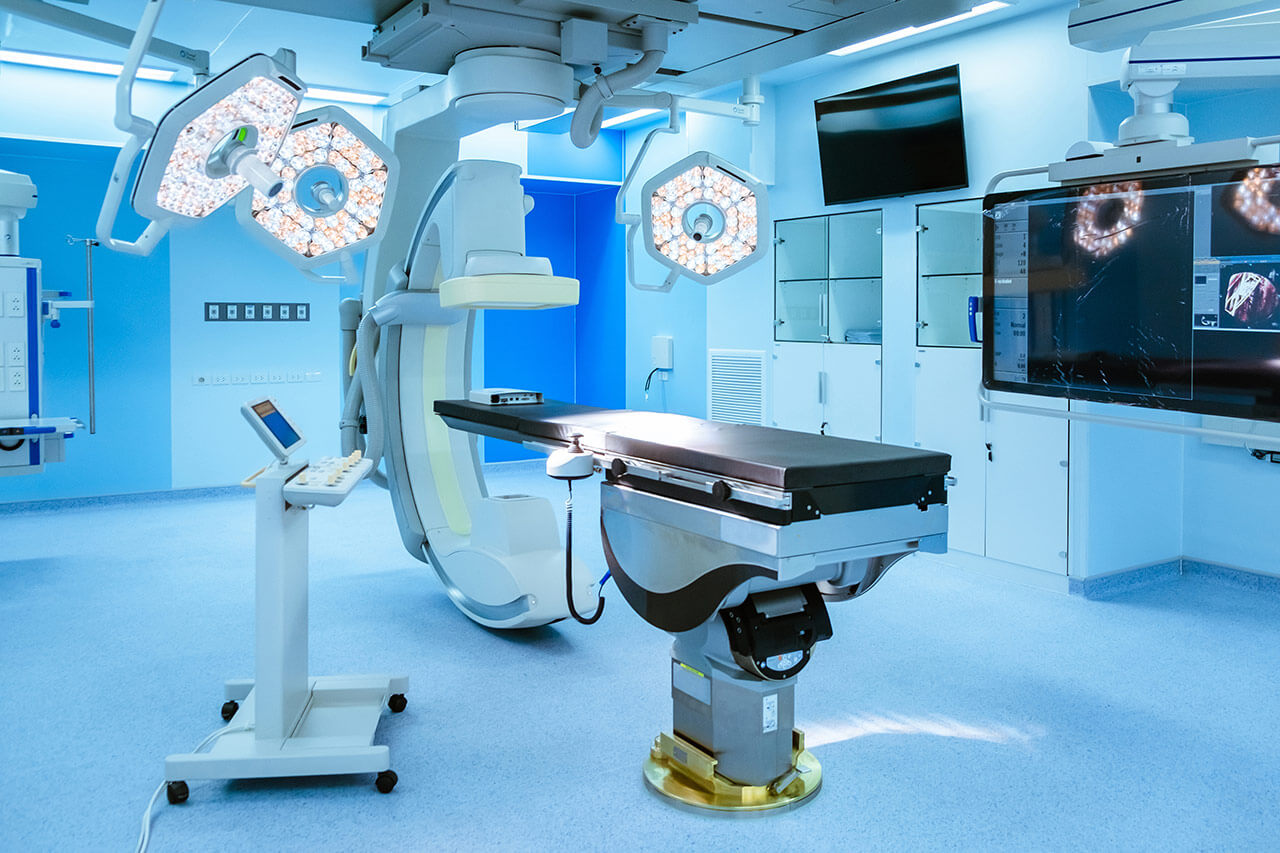 Equipment for a hybrid operating theatre
Etkho has 30 years of experience in providing electrical safety solutions for hospital facilities. We are specialists in the design and manufacture of high quality technological products for IT electrical systems for critical units, offering a wide range of consultancy and maintenance services in the surgical and intensive care unit environment.
Hybrid operating theatres are no exception; that is why it is so necessary to go for the best quality and advice in the equipment of the hybrid operating theatre. These elements include:
The medical isolation monitor continuously monitors the isolation resistance of the medical IT systems, while the multi-repeater monitors the information from the isolation monitors connected to the network.
The uninterruptible power supply panel, which guarantees continuous power supply, avoiding mains power cuts, for at least 2 hours.
Hospital earth panels, electrical sockets, electrical plugs and equipotential bonding bars are also essential for surgical units.
In IT power supply systems, the electrical safety isolation panel provides an isolated power supply system for critical hospital areas, such as the hybrid operating theatre.
The alarm repeater is intended to repeat the alarms detected in the isolation monitor for the clinical staff in the medical room. 
The emergency power supply unit for surgical lights is the emergency power supply that ensures that the light and its external wall controls remain operational for at least two hours.
Features of a hybrid operating room
Now that we know the elements, it is important to highlight the features that a hybrid operating room should have. Starting with a much larger space in dimension than any other traditional operating room to accommodate more medical staff, as well as the movement of monitors and equipment. 
The interior design must be designed according to the workflow, placing everything in such a way that there is no interference and having different types of lighting. In addition, it will be essential to meticulously control the radiation dose applied. 
On the other hand, it should be noted that the equipment of a hybrid operating room will always vary according to the devices that can be acquired, the expected needs or the available space, among other factors.
Hospital engineering for its design
Creating hybrid operating theatres stems from a need to bring the rapid evolution of medical technology to hospitals in an optimal way. In this respect, the transformation of healthcare facilities is led by elements such as hybrid operating theatres. 
Until now, complex surgical interventions were performed in separate areas far away from the diagnostic imaging rooms. The hybrid model eliminates this problem at its root, and provides a solution to another one: the changing needs of an operating theatre depending on the operation to be performed. 
For all these reasons, the hospital engineer is more necessary than ever to support these models and to know how to plan and design them in hospitals. Also, as is logical, the help of a team of experienced engineers, specialised in engineering solutions for hospitals, such as ETKHO.