For more than a century, medical gases have been used in the healthcare sector for many forms of modern diagnosis and treatment, becoming crucial elements in the well-being of the patient and the operation of any hospital facility.

Their uses are very diverse: from respiratory support to anaesthetic agents, to diagnose and treat various pathologies, to calibrate medical equipment, etc. These gases, being classified as medicines, must meet the highest standards of safety, quality and efficiency.
In this respect, one of the most important points is their management and control. For this, we have alarm systems for medical gases, capable of alerting of possible failures, indicating what it is and solving problems that could be very serious. Let's get to know what they are, starting with a little more about medical gases.
What are medical gases?
Medical gases are intended to come into direct contact with the human organism. Acting by pharmacological, immunological or metabolic means, these elements can be used in medical applications for the prevention, diagnosis, treatment, relief or cure of diseases, injuries or ailments. These gases have to comply with very strict regulations in order to offer maximum health guarantees. 
What is considered a medical gas?
There is a wide variety of medical gases needed in healthcare: medical air, carbon dioxide (CO2), helium (He), nitrous oxide (N2O), nitrogen (N2), nitrogen monoxide (NO), oxygen (O2) or xenon, among others. Thus, we consider medicinal gases:
Those used in inhalation therapy, anaesthesia, diagnostics as radiopharmaceuticals and in vivo diagnostics.
Those used to preserve or transport organs, tissues and cells intended for transplantation, provided they are in contact with them.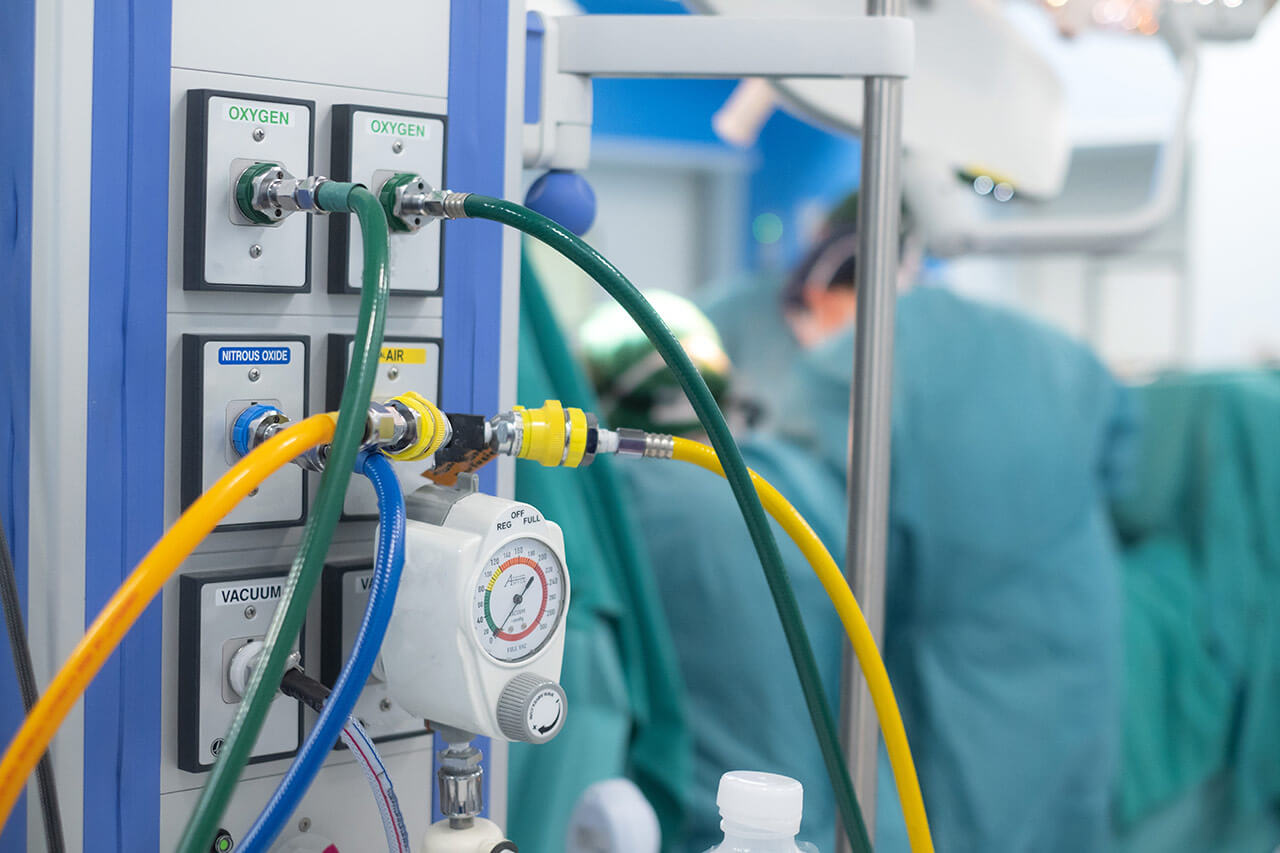 Main uses of medical gases in hospitals
Respiratory therapy

 

Treatment of severe obstructive pulmonary diseases

 

Cryosurgery
Laser therapy

 

Anaesthesiology

 

Diagnostics

 

Preservation and transport of organs, tissues and cells

 
Actualmente, los gases medicinales se emplean para multitud de aplicaciones clínicas.
"One of the most important factors is to ensure their use for patient safety, which is why strict regulations have to be met in the design, installation, commissioning and maintenance of medical gas installations. These systems have to be operational 24/7/365."
Medical gas alarms – what are they?
In healthcare facilities, within all the usual hospital equipment, we find various alarm and control systems. These vary according to their role, capacity and function. One of them concerns alarms designed to control the pressure of medical gases in healthcare facilities. 
What are these systems for? They are technological modules or devices that monitor the flow and pressure of medical gases throughout the network. They can read the pressure in each of the lines supplying the gases, and in this way detect different problems or anomalies, whether low pressure, leaks or variations in gas flow. These alarms also act as an indication of when the components that make the pumping of the gases possible need to be serviced or maintained, reducing the percentage of supply failures.
Proven efficiency
In this way, medical gas control and alarm systems monitor the status of the medical gas supply in real time by means of acoustic and/or optical signalling. 
They are therefore an essential part of the most functional and indispensable hospital equipment solutions available, as they ensure the smooth operation of medical gas lines and enable any faults to be detected and remedied in good time. That is why we can find them interconnected to different areas and rooms of a hospital, such as operating theatres, surgery rooms, recovery areas, ICU and ICU, emergency areas, etc.
Basic characteristics of medical gas alarms
They have to be designed under very specific standards and comply with the most exhaustive health regulations.

 

The structural system with which they come can be embedded in multiple surfaces.
They have a punctual and precise capacity to detect the different pressures existing in the gas lines.

 

They alert of the existence of low or high pressure and leaks, for preventive maintenance.

 

They can be interfaced with other alarm systems.
With the ideal configuration, it will identify the variables in the gas lines.
The equipment is manufactured in aluminium and incorporates integrated functions for changing units or pressure parameters.
They allow the visualisation of each pressure line in each of the medical gas networks.
It is important to have annual inspections to make sure that the signals are available and all lights are working properly.
Operation of alarm systems
Any reputable medical gas alarm management system allows for complete monitoring of the medical gas supply system. Its emergency and operational signals are recorded by data collectors and can be accessed throughout the network. This data can be viewed locally or at a central monitoring station.
In the case of a centralised design, new components can be added or existing configurations can be modified at any time. 
It is important to remember that the main alarm and the panel that integrates its sensors must be in an area close to the person responsible for maintaining the equipment.
Alarms integrating panels and fault detection
Each medical gas alarm system is different and is governed by its own unique needs, including built-in regulations that vary from country to country. On the one hand, we can encounter serious problems and loud alarms, but also subtle faults that can only be detected by checking the system.
Among the most commonly used systems today are digital alarm and master alarm systems.
The digital alarm, the latest technology, is a device that monitors the flow of medical gases through a system of microprocessors capable of detecting irregularities of low or high pressure, according to the established parameters. They also have the option to change the pressure parameters, i.e. they can read different pressure units (Psi, Kpa and Bar). All of this is indicated on an integrated monitor or display.
A luminous scale (LED lights) shows the pressure levels in the gas lines (usually red, yellow or green). There are also buttons for silencing the alarm, scrolling or changing the menu, parameters and connections to the master alarm network.
Master alarm systems work by interconnecting data with other digital alarms for medical gas networks. Their interface or microprocessor system identifies the alarm processes for high and low pressure. They keep accurate track of each and every
Most common failures, leaks and problems
Medical Gas alarms mainly alert us to changes in the quality of medical gases and leaks that could lead to accidents in the hospital. We are talking about:
Damage to hospital equipment or infrastructure.
Damage to the health of patients, relatives and healthcare professionals.
To avoid this, these systems detect all kinds of problems, breakdowns, leaks and other symptoms of failure, such as:
High or low pressure in the main line of oxygen, nitrogen, CO2 and medical grade air compressor.
Low primary fluid level

 

Reserve in use, low liquid or low pressure
High compressor temperature